One, two, three, four, five . . . .
by Mick Kolassa, BTT Board member
BTT has been tagging bonefish in Belize for several years and our efforts have really stepped up over the last three yea
rs. This year our efforts have begun to pay off, and in a quite surprising way. I fished for a week in March 2011 at the Belize River Lodge, one of BTT's most active Research Partner Lodges. Fishing for 6 days with two different guides, Jose and Dirk, we caught and tagged several bonefish in different locations. On May 31st Mike Berardi, fishing out of the Belize River Lodge with Pedro as his guide, caught a bonefish that I had caught and tagged on March 19th, the first recapture of a tagged bonefish in Belize. We were thrilled to learn of this, and at the things we can learn from the recapture, but we even more thrilled to learn that on August 3rd, Teri Williams, fishing with Raul on a day trip from the Belize River Lodge, caught a bonefish that I had caught and tagged on March 31st. This second recapture brought about the amazing pattern that motivated the title for this report: at one lodge, two fish were caught by three anglers fishing with four guides over five months.
We are hoping that the recaptures become commonplace in Belize because the information we've gained from these two fish has already indicated some things about these populations that we didn't know, about growth and mobility. One fish measured 12.5 inches when caught in March but had added another half inch in length in that 5 month span – we can't draw any conclusions but now we have our first data point in that regard! We also found that each fish was recaptured within a few hundred yards of the point of the first capture and tagging. Whether these findings will be repeated and expanded upon in the future remains to be seen, but for me it reinforces the need for and value of these tagging activities. I am the first to admit that it is difficult to take the time to measure and tag the fish and record those particulars right after landing a fish, especially when there are others still visible within casting range (which is one of the real benefits of fishing in Belize) but knowing that taking a few extra minutes to do this may one day provide the information that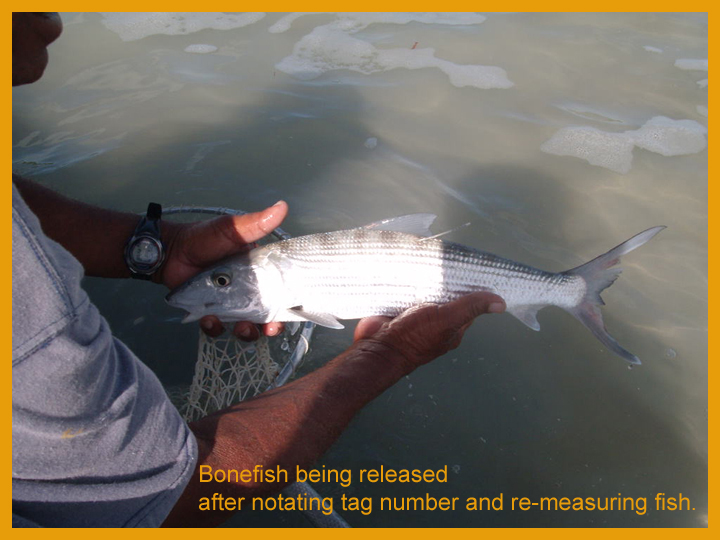 can help us to protect and preserve this beautiful treasure of a fish is enough to keep me tagging. Now I need to try to recapture a fish that I tagged!
Also found on Bonefish & Tarpon Trust's website at
http://www.tarbone.org/news-a-events/383-tagged-bonefish-recaptured-in-belize-.html
Belize River Lodge
PO Box 459
Belize City, Belize
Central America
><(((*> * <)))><
Phone Direct: (501) 225-2002
Fax Direct: (501) 225-2298
Toll Free: (888) 275-4843
Website: www.belizeriverlodge.com
><(((*> ><((*>
Facebook BRL: http://www.facebook.com/belizeriverlodge
Facebook Long Caye Outpost: http://www.facebook.com/BRLs.Long.Caye.Outpost
Linked-In: http://www.linkedin.com/in/belizeriverlodge
><(((((((*> ><(((((*> Catch and Release – Tarpon, Bonefish & Permit <*)))))>< <*)))))))><
( *)> Birding & Eco-Tours . . . <(* )
( )                Visit Belize,   (    )
^^ & Enjoy our BRL hospitality! ^^