Activities on Long Caye
If you are visiting Long Caye with an Angler or if you just want to take a break from fishing, the below tours &/or games are available to you.
SNORKEL THE BARRIER REEF: Snorkel the day away watching exotic tropical fish and observing the many different types of colorful coral. Spend a relaxing day snorkeling; enjoy the underwater wonders of the Belize Barrier Reef. Return to Long Caye and sunbath in the privacy of your island retreat.
FLATS FISHING: Belize River Lodge specializes in sight fishing the many saltwater FLATS. We cater to both fly and spin fishing enthusiasts. Fishing is from comfortable panga style skiffs, usually two anglers to a skiff, with an English speaking, experienced licensed guide. Our diverse fishing areas include the Flats, Cayes, Barrier Reef, mangroves, channels & the creeks in between. Fishing is for a variety of game fish species. On most fishing days, you will have a good opportunity to fish for Bonefish, Snook, Tarpon and Barracuda. If the weather is right, Permit is another great option to fish for. Other possibilities to fish for are Cubera Snapper, Jacks, Grouper & others.
GENERAL FISHING: If you fished as a child or have never fished, you can catch fish in Belize, by either spin fishing or "drop fishing". With a line, sinker and bait, or with a spinning rod and small lure, you can fish the reef, channels and mangroves for barracuda, snappers and other many other species. If you enjoy eating fresh fish, then bring in one for your cook to prepare for your lunch or dinner.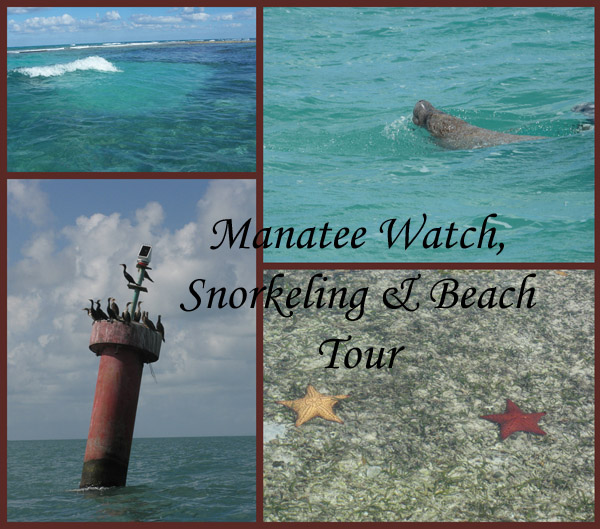 MANATEE WATCH & MIAMI BEACH: Search for manatees in areas that they frequently visit. Old sailors uses to see these mammals and imagine mermaids. You will also pass by St. George's Caye, the unofficial capital of British Honduras and most historic island in Belize. It was settled by the British in the 1600's, and was the capital of British Honduras. It is where the Spanish make their final effort of conquer Belize in 1708. Between St. Georg's Cay and Long Caye, find Miami Beach, which isn't a beach at all, but a shallow white sand bottom in crystal clear water, frequented by a variety of saltwater fish and a wonderful spot to swim and cool off.
CAYE CAULKER: Only 8 miles from the Outpost, your guide can boat you up to the village of Caye Caulker where you can walk around, and see a good combination of "old and new" – the old fishing village along with the modernization of hotels and gift shops. If you enjoy birding, over 100 species found on the island, such as the rufous-necked wood-rail and black catbird.
SCUBA DIVING: We will rendezvous with a licensed and professional dive shop, who will take you to explore the reef from the bottom up. Dive amid the coral of the Barrier Reef, swimming with the tropical fishes. Certified divers only (card required) and need to have a dive logged in the last two years.
BIRDING: Take a walk around the island Outpost and there are a number of birds and shore birds easily seen. If you are a birder, this a good time to go out with your guide and also scope the area for other birds who nest in neighboring islands.
KAYAKING: On request, kayas will be at Long Caye – two maximum plus guide. Starting from the beach in front of the Outpost, paddle to the swimming flat out front or kayak around the island. It is relaxing way to enjoy a few hours. PDFs are required at all times, no exceptions.
GAMES: Available on request: Volleyball net and ball, badminton, croquet, Trivial Pursuit, Checkers, Backgammon, cards. If you are a family or friends who want to enjoy a few games, just let us know when confirming your trip and we will make sure the games are on the island.
Double Occupancy to Room & Guide = d/o
Single Angler/Single Room = s/s
LCOL: R&R-Water Tour Packages
~ Cost per person, based on 4 people to the Group
5 Nights/4 Days LC Outpost Lodge R&R-tour Package is US$1,825.00 per person based on d/o with a total of 4 people to the group.
6 Nights/5 Days LC Outpost Lodge R&R-tour Package is US$2,321.00 per person based on d/o with a total of 4 people to the group.
7 Nights/6 Days LC Outpost Lodge R&R-tour Package is US$2,695.00 per person based on d/o with a total of 4 people to the group.
LCOL Adventure Tour &/or R&R Package Includes: Round trip airport (BZE) transfers in Belize, accommodations, all meals, soda & drinking water, daily housekeeping, transfer to and from Long Caye, going in the boat with a fishing guest or relaxing on the island, any scheduled water tours, Belize Taxes of 9% Hotel Tax & 12.5% GST tax.
LCOL Adventure Tour &/or R&R Package Does Not Include: Airfare to & from Belize, Fishing packages, equipment & tackle, Belize Fishing License, snorkel equipment, alcoholic beverages, tips to guides and staff, Belize Departure Tax (approximately US$55.50 per person – included in ticket or paid at Airport)
Sample Package: Long Caye Outpost Lodge ~ 7 Nights/6 Days Tour Package
Note: Any water tour can last as long or as short as you like, as your guide accommodates what you would like to do. That is, if you snorkel, you can go for 4 or 5 hours or go for 2 hours and come back to the Outpost and relax and nap or go birding. Your LCOL tour vacation can truely be your get-away-from-it all get-away. Our LCOL has been a big hit with family with children.
Night 1 Arrive & Overnight LCOL
Night 2/Day 1 Tour: Snorkel & Manatee Watch
Night 3/Day 2 Tour: Island Hop & Birding
Night 4/Day 3 Tour: Snorkel & Miami Beach
Night 5/Day 4 Tour: General Fish
Night 6/Day 5 Tour: Kayak & sightsee
Night 7/Day 6 Tour: Snorkel & Caye Caulker shop
On Day 6, Return to Belize River Lodge and overnight BRL for an easy airport transfer on your departure day.
Day Depart