Information to Note
Belize River Lodge is located 10 miles north of Belize City on the "other side" of the river; there is no road access into the Lodge. We are only about 70 miles east of San Ignacio in the Cayo district and 40 miles south of Orange Walk. BRL is situated on 47 acres on the Belize Olde River and about 10 acres are manicured with flowering trees, scrubs and bushes, hardwood trees and fruit trees. BRL offers 8 rooms with all the modern conveniences in a beautiful jungle setting. Below are the amenities onsite at the Lodge.
24-Hour Electricity – 110 volts
Hot Water
Ceiling Fans in rooms
Hair dryers in bathroom
Air-Conditioned Rooms
Alarm Clocks in Rooms
Power Strip Tower Surge Protector Electric Charging Station – 3000W 13A 16AWG, 10 Outlet Plugs with 4 USB Slot in each Room
Hammocks on all Verandah
Wireless internet is available on main lodge porch, living room and rooms free of cost
"Family style" restaurant Serving Three Home-Cooked Meals Daily

 Dietary Needs easily met, just let us know ahead of time

Well-Stocked, Self-Service Bar
Daily Maid Service
Laundry Services available
Small Gift Shop
Rental Fly & Spin Equipment
Flies, Lures, Leaders available for purchase
Catch and Release Only
Belize River Lodge was the first to practice catch and release for Permit, Bonefish & Tarpon and as of the summer of 2009, it is now law!  Belize law states that all Permit, Tarpon and Bonefish are Catch & Release only.  Even though not protected by law, BRL continues its goal to improve the fishing environment, so only one Snook per day at guide's size discretion (and only if wanted by the guest) may be kept.  Some Snapper, Barracuda & Grouper may be kept for the table, again only if wanted by the guest.
Belize Fishing Licenses
A fishing license is required to sports fish in Belize.  Fishing licenses are per person – US$25.00 for the week or US$10.00 per day.  Please visit https://apps.coastalzonebelize.org/ to purchase your Belize fishing license online.
Travel Documents
A valid passport is required to enter Belize and must be valid at least six months beyond the duration of your stay.  Visitors from the USA, UK and most of the Caribbean do not need Visas.  Most other countries do.  Any questions, please contact the Embassy of Belize in the USA at (202) 332-9636, Fax (202) 332-6888 and the website at http://www.embassy.org/embassies/bz.html
Minors Traveling To Belize Without Both Parents
If you are planning on traveling with minors, remember that all children 18 years of age or younger entering Belize accompanied by only one parent or legal guardian must have a notarized letter of consent from the other parent stating the child/children have his/her permission to enter the country. Single parents need a notarized documentation of divorce decree or death certificate of spouse. Minors unaccompanied by either parent require a notarized letter of consent signed by both parents.  Please visit the Embassy of the United States web site for Belize to obtain more information.
Departure Tax
There is a fee of US$55.50 for the Belize Departure Tax & Airport Security Fees that is usually included in your ticket or must be paid at the airport upon leaving Belize.  If not included in your ticket, this must be paid at the airport in US Dollars before departing Belize.
Travel Arrangements
Guests fly to Belize International Airport, airport code is BZE. You are met by a member of the Lodge staff, who will shuttle you to the Lodge which is only a few miles away. Agents normally handle airline ticketing or you can get it online.  The following airlines fly to Belize and you can contact them online: Air Canada, Avianca, American Airlines, Copa Airlines, Delta, Southwest, Tropic Air, United and WestJet.
If you are arriving in your private aircraft, planes should clear through Phillip Goldson International Airport (airport code: BZE) with the Belize Civil Aviation Department and the Belize Airport Authority.  For more details, please check the following website: www.travelbelize.org/private_airplanes.html
Travel Protection
Travel Insurance and protection is always nice to have as you never know what the future will hold or if plans need to be changed at the last minute. Many travel insurance sites are available. Belize River Lodge strongly recommends that you enroll with Global Rescue  prior to your trip if you are getting trip insurance.
Note:  If you are booked during hurricane season (June to October), and you have paid for your trip, if a storm brews and your trip has to be postponed, no problem, you don't lose any money, you have one year to reschedule your dates.
Carry-on Baggage
Most anglers like to carry on their rods, reels and fishing equipment.  Carry-on regulations are not set in stone and depend on the airport that you are traveling from.  The most up-to-date information on security procedures can be found on the web at https://www.tsa.gov/traveler-information/prohibited-items.  While not specific, it is a good guideline; however, it does state the following:
Medications – any medicines prescribed by a doctor and taken daily should be packed in carry-on.
Fishing rods:  Fishing rods are permitted as carry-on and checked baggage.  However, please check with your air carrier that it fits within their size limitations for carry-on items.  Ultimately, it is the carrier's decision as to whether or not it can be transported as carry-on baggage.
Tackle Equipment – Fishing equipment should be placed in your checked baggage.  Some tackle equipment can be considered sharp and dangerous.  Expensive reels or fragile tackle such as fly's should be packed in your carry-on baggage.
Fishing Recommendations & What to Bring
Please click on the links above to get recommendations. Thank you.
BRL Pre-Trip Guest Questionnaire
Please note the questionnaire is very important for planning your trip.  If you have any requests or food allergies, please let us know before your arrival, so that we will have everything you need.
Bonefish, Permit, Tarpon & Snook
Bonefish (Albula vulpes): Average in Central Belize is 3 lbs.  Can land as small as 8" and as big as 7 lBs.   Bonefish live in inshore tropical waters and move onto shallow mudflats to feed with the incoming and outgoing tides. Adults and juveniles may school together, and they may be found singly, in pairs or schooled in bigger groups.
Length of average cast needed:  25 feet to 40 feet
Permit: 6 to 30 lbs average size with smaller and bigger landed.  Permit are usually found in shallow, tropical waters such as mudflats, sand flats, coral and channels. They are usually seen as individuals or in small schools.
Length of average cast needed:  25 feet to 50 feet
Tarpon (Megalops atlanticus):  Average size in Central Belize varies.  Resident fish range 5 lbs to the 80 lbs, with a few being over 100 lbs.  Migratory Tarpon size range about 80 lbs to over 175 lbs.  Tarpon are found in both saltwater and freshwater habitats and are able to survive in brackish water, waters of varying pH, and habitats with low oxygen content due to their swim bladders, which they use primarily to breathe. They are also able to rise to the surface and take gulps of air, which gives them a short burst of energy.
Length of average cast needed:  30 feet to 60 feet
Snook: Average size 8 to 15 lbs in Central Belize, with smaller and bigger being landed.  Snook live in shallow coastal waters estuaries, and lagoons and often move between saltwater to fresh water.  Snook feed on smaller fish.  The snook is considered an opportunistic predator and studies show a positive relationship between their size and the size of their prey, meaning that as the snook grows it feeds on larger and larger prey.
Length of average cast needed:  20 feet to 30 feet.
             Most flats and fishing areas can be home to multiple species, so plan to be prepared with a Bonefish rod, a snook/tarpon rod, permit rod and if they are around a large (75 + lbs) tarpon rod.
Departing Belize
Please note that it is illegal to remove Maya artifacts, unprocessed coral, turtle shells and conch shells from the country of Belize.
Currency
The Belizean dollar is worth half of a U.S. dollar. Dollars are accepted everywhere, but change will be given in Belizean dollars. For your convenience, please bring small bills to cover small expenses, such as Airport Departure Tax, airport porter, bar bill and incidentals.
Marguerite's Restaurant & Meals - Dietary Needs
Meals & Dietary Needs:  BRL serves family style meals and our daily menus are varied and very tasty.  Don't let a dietary need keep you home, our cooks can most dietary restrictions.
It is best if we know before you arrive in Belize if you have any special dietary restrictions (food allergies, diabetes, Celiac disease, etc or special requests), so that we can prepare your meals to your needs.  However, the main Lodge is near supplies, so we can usually accommodate requests quickly.  When checking in, we double check with you on dietary requirements and if we somehow missed yours, please be sure to let management know of any dietary restrictions or requirements that the kitchen staff needs to be aware.
BRL's kitchen can handle an assortment of dietary restrictions and have a menu planned for your requirements.  Please let us know if you need a diet to take into account:  Diabetes, High Cholesterol, Celiac Disease, Vegetarian &/or other not listed.
Continental breakfasts at the Lodge:  Available upon request; however, notice needs to be given before 7:00 p.m. on the previous evening.   If you and your guide feel fishing early will be beneficial, it can happen and continental breakfast is served to facilitate.  Your guide will not be available to depart early unless an early departure is set up with him before the end of the previous fishing day
Drinking water and Ice:  All drinking water and ice is purified bottled water and ice.  Ice melts quickly in Belize, please be conscious to securely close ice coolers.
BRL Accommodations
This historic Lodge has been in continuous operation since 1961, and has been known as Barothy's Caribbean Lodge Ltd., Keller Caribbean Sports Ltd. (KCS), and since January of 1987, Belize River Lodge. The Lodge is operated by Mike Heusner and Marguerite Miles and their on-site management makes BRL one of the most personalized lodges in the Caribbean. Guests visiting Belize River Lodge stay in the comfortable hardwood Mahogany Lodge, which is located in a setting of tropical greenery and colorful flowers on the bank of the Belize Olde River. Fishing is from a 23′ panga, the only skiff that can truly handle the waters of Belize. At the Lodge, we are very well known for our Belizean hospitality and our delicious Belizean Creole cuisine; diets are usually set aside for your visit.
The following are amenities found in your rooms.
24-Hour Electricity – 110 volts
Ceiling Fans in rooms
Air-Conditioned Rooms
Hair dryers in bathroom
Hot Water in all bathrooms
Shampoo, Conditioner, Lotion & Soap
Alarm Clocks in Rooms
Power Strip Tower Surge Protector Electric Charging Station (3000W 13A 16AWG, 10 Outlet Plugs with 4 USB Slot) in each Room
Hammocks on all Verandah overlooking the Belize Olde River
Daily Maid Service
Laundry Services available
Electricity and electrical outlets:  The main Lodge gets electricity from Belize Electricity Limited.  Belize is on the same electrical system as the USA (110 volts, 60 cycles), so if coming for N. American, no special outlet plugs are needed.  Each room has a 3000W 13A 16AWG 10 Outlet Plugs with 4 USB Slot Surge Protector Electric Charging Station.  Some of BRL's outlets are two prong, so you may want to bring a two-into-three prong electrical plug converters (about $1.00 at a hardware store in the US).  If you have a lot of camera equipment, etc, you may want to bring a small power strip to handle your electronics in one area of your room.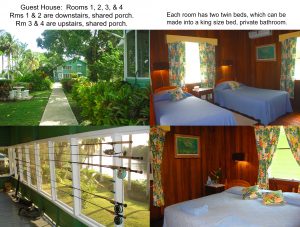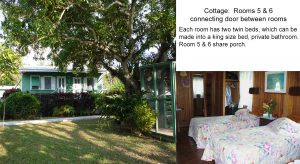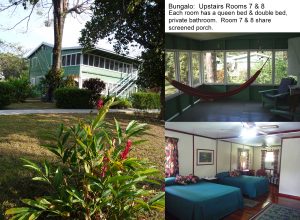 Mike's Closet (Tackle Shop)
(Tackle Shop):  BRL has a small tackle shop with an assortment of fishing supplies – flies, lures, backing, lines, leaders and tippet. Mike's Closet has a good selection of flies and lures on sale (based on the BRL recommended lists), however, you can follow our fishing list and bring everything that you will need, using Mike's Closet as a back-up.  If you cannot find something on the recommended list, don't worry, we have it available at the main Lodge.
Rental Equipment
BRL has rental equipment, subject to availability. Fly fishing equipment is top quality, mainly Sage rods, 8 wt's, 10 wt's & 12 wt's, & Teton or Sage saltwater reels.  All reels have Rio lines.  We also have a few 8 wt, 9 wt & 12 wt Winston rods in our rental equipment.  Spin fishing equipment is also top quality, mainly Ugly Sticks with Shimano or Penn reels.  If you find that you are short of the needed equipment, flies or lures, we have a good stock of flies & lures that work well for the local waters.  Please check with someone in the office.
Liquor at the Lodge
The Lodge has a small self-service, honor system bar and guest sign a tab for drinks.  We have open bottles of alcohol (a Belize rum, a vodka, a gin, a whiskey, & a tequila) at the bar for you to mix drinks in the evening.  We also have alcohol & wine for sale by the bottle.  Please check with the office to see what is available by the bottle.
Special requests can be made for all alcoholic beverages by the bottle.  We will send a list of what is available in Belize with pricing, you can order and we will have it ready for your arrival.  All special requests will be billed during check-in, no returns.
You may bring your own alcoholic beverages, if you like.  When entering Belize, after Immigration and before luggage retrieval, there is a "Duty Free".  This is an easy place to pick up your liquor and tobacco.  If purchased at the duty free in Belize, visitors are allowed 4 liters of alcohol duty free each.
Fly Tying Bench
Belize River Lodge has a fly tying bench with tying materials available for guest use. If you have a particular fly that you like to tie, maybe bring a few of those materials with you. If you would like some instruction or would like to learn to tie flies during your stay, Mike & a few of the guides can help you.
Wildlife Around BRL
Belize River Lodge is a naturalists' paradise with an abundant variety of tropical birds; iguanas & lizards in the trees and crocodiles in the river. Eco tours to the Maya Temples, Barrier Reef and the mangrove cathedrals are all very easily accessible from the Lodge.
Natural Wildlife: Belize River Lodge is in a jungle setting and we get a variety of wildlife – tropical birds (over 120 species identified around the Lodge), howler monkeys, jaguar, tapir, crocodiles, agouti and other wild animals throughout the year.  These are wild animals and are not fed to keep on the property, so if f you are lucky, you may get to see one or two.  If interested, we have lists of birds, animals and trees found on/around BRL, please check with the office.
Natural Wildlife Pests:  Due to the tropical climate of Belize, it is very likely that you will encounter natural wildlife which can also be pesky.  Belize River Lodge is a jungle lodge so the possibility of seeing lizards, geckos, iguana, crocodiles, frogs and spiders are common and are harmless.  They all help to eliminate unwanted pests.  If you encounter a scorpion or a snake, don't panic!  Usually they are more afraid of you and are trying to get away.  Let us know if you need help removing them from wherever you are.
Mosquitos:  We try to protect the environment and we minimize the use of sprays and insecticides, as they also harm birds and butterflies.  Mosquitos and No-seeums (sandfly's) can be pesky, especially around sun-up and sun-down, and are the worst you will encounter.  Mosquito repellant is a good deterrent and light weight long pants with socks and light weight long sleeve shirts also help to keep them from biting you.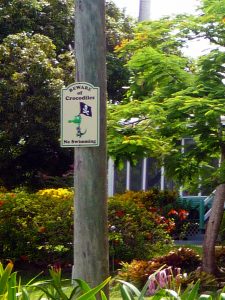 On the Water and Off
Wading:  Some wading is available from both the main Lodge and the Outpost Lodge.  If you would like to wade, please let us know ahead of time, so that we can schedule you with a guide who wades.  There is no wading while fishing Snook and Tarpon.  If fishing for Bonefish & Permit, about 20% of our flats are wadable.  Please note, that the wadable flats are usually the first to blow out in windy conditions.
 GPS's:  GPS's on a fishing boat always ensures that the fishing is never as good as when it is just the anglers and the guide on board.   Please leave your GPS at home.
Salt Water:   Saltwater is very corrosive. Rinse your rods & reels daily with fresh water.  While at the Lodge,  your guide and BRL Staff will rinse your rods & reels down with fresh water at the dock at the end of the day . After your trip, make sure to rinse & clean all equipment & clothing thoroughly before storing.
Communication outside of Belize while at BRL
Telephone:   To receive calls while at the Lodge, the main phone number, dialed direct from the USA is 011-501-225-2002.
If you will be using your US cel phone in Belize, you will need to call while in the USA (country of origin) and have your service provider open it up for International calling and Belize in general.  Your US cel should work around the Lodge with no problems.  Belize rental cel phone available, please contact us for more information and rates.
Internet services:  The main Lodge porch, living room and your room is set up for wireless internet, please ask the office for the password.  If you have brought your laptop, please feel free to use our free wireless service;  this is minimal access for e-mail only and shared by all guests, no big downloads, please!
If you have something with big upload/downloads that you need to do while at the Lodge, internet is now available by wireless router, via Smart 4G.  We have the routers for rent for US$5.00 per day, and you can let us know how much time you would like us to have on it.  Time on MiFi's is sold by the GB, please contact for GB pricing.
Tipping
BRL does not include a service charge or gratuities on your bill.  Gratuities are appreciated by our staff who work hard to make your stay enjoyable and memorable.  Please tip your guide on your last day of activity and the staff on your departure day.  Tipping is a personal thing based on service.  Please plan on tipping in cash for both guides and lodge staff.  If help is needed, please ask the Lodge manager for guidelines
Your Hosts - Mike & Marguerite
Mike & Marguerite purchased the Lodge in 1986 and have owned and managed it ever since; however, their tourism career started years prior.  Mike & Marguerite managed the Lodge, when it was known as Keller's Caribbean Sports (KCS) from 1980-1981. In late 1981, they were hired to manage Pyramid Island Lodge and moved to Caye Chapel. After a few years, they left Caye Chapel and opened up Discover Belize, known for live-aboard (the Permit) fishing and duck hunting trips, yes, there are blue-winged teal in Belize.  In the mid '80's with Belize's regulations on gun control tightening and Mike & Marguerite's focus to conservation beginning, they phased out the duck hunting and continued fishing with a big focus on catch and release on the sporting species.  When KCS went on the market in 1986, it was the right transition for them.  When Mike & Marguerite purchased the Lodge, the guides were from good Ole' Vic's days – Jimmy Evans, Richard Smith, Phillip Andrewin, Roy Baptist and Leroy Eiley. These guides were a font on information on the old days and the fishing of Central Belize.  With Mike and Marguerite's experience of Belize, tourism and fishing, they are entertaining and knowledgeable hosts.
Trip Feedback
We do not always get in touch with you after a trip, this is not because we do not care about your thoughts on what could have made your trip better, it is because we are giving the guest at the Lodge the same personalized attention that you received.  Please contact us with feedback so that we can continue to make the Lodge better and we always appreciate hearing when you just enjoyed your trip.
We also appreciate any pictures that you would like to share with us, so that we can post on the BRL Facebook page, BRL website or use in one of upcoming brochures;  or if you would like to post and tag us.
Photos:  BRL's promotional material, brochures, magazine ads, website, dvd, flyers etc are all from guest photos. If you have pictures (whether fish, flora, fauna or anything that you find interesting during your visit) from your trip that you would like to share, & don't mind us using your photos, please let us know. We can download the photos to our computer before you leave the Lodge.
Miscellaneous Items
Lodge TV /DVD at the main Lodge:  On the main Lodge porch, we have a TV and DVD player.  While the main focus of the Lodge is not TV, we know that there are important sports games throughout the year and it can also be used to see video footage of fish landed during the day.
 Music:  The main Lodge and Long Caye Outpost Lodge both have a cd/ipod player if you would like to enjoy music in the evenings or during dinner.  If you don't see if, just check with us.
 Cigars:  The Caribbean is known for some of the finest cigars in the world, we have a good stock available for sale in the small humidor on the porch.  However, if you wanted to try a Cuban, let us know and we can get them for you.  24 hour notice is required on this service.
Hairdresser: Ladies, while Belize River Lodge does not have a cosmetologist on site, we can make arrangements for you to go into Belize City for a hair or nail refresher.   24 hour notice is required on this service and based upon availability of the cosmetologist.  Not available on Sundays and Mondays.
Massages:  Massages are available at the Lodge and can be arranged; so plan to unwind and treat yourself to a relaxing and therapeutic massage!  Let us know you are interested, and a licensed masseuse will arrive at the Lodge after dinner and relieve your body's aches.   24 hour notice is required for this service.  Massages are available only if a masseuse is available.  Price is based per 1 hour.
Transportation to Belize City: If you would like to visit the casino or see a little of Belize City, taxi service is available.  The cost for one or two people is approximately US$25.00 one way into Belize City or US$50.00 round trip (price subject to change).  The driver will stay with you (up to a party of 2) on your excursion for an additional US$10.00 per hour. Other destinations are different costs.  The driver is paid direct at the end of your trip.
Cigars:  The Caribbean is known for some of the finest cigars in the world, we have a good stock available for sale in the small humidor on the porch.  However, if you wanted to try a Cuban, let us know and we can get them for you.  24 hour notice is required on this service.
 Taxidermy – Fiberglass mounts only:  BRL has a good working relationship with Gray's Taxidermy.  Gray's specializes in realistic fiberglass mounts in all species of fish.  If you have landed your trophy, please get exact measurement full length (tip to tail point) and girth and Gray's will make your beautiful wall piece.  BRL can take your order and Gray's will confirm once you get home.  For more information and pricing, please check with BRL's office.
Suggested Reference Books: 
* Practical Fishing Knots II by Mark Sosin & Lefty Kreh
* Fly Fishing in Saltwater by Lefty Kreh
* Fishing the Flats by Sosin & Kreh
* Fly Fishing for Bonefish by Dick Brown
* Saltwater Fly Fishing by Jeff Currier
* Fly Fishing Belize by Jim Klug (www.klugphotos.com):  From Vic Barothy's time to present day, this is a beautiful book with photos of all over Belize from the 1960's till today.