FOR IMMEDIATE RELEASE
August 12, 2023 – Belize City, Belize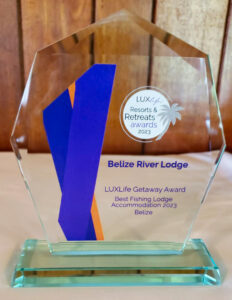 Belize River Lodge is thrilled to announce its prestigious victory in the LuxLife Best Fishing Lodge Accommodation Award for the year 2023. This esteemed recognition underscores the lodge's unwavering commitment to providing exceptional fishing experiences coupled with world-class accommodation and hospitality.
The LuxLife Awards celebrate the most outstanding businesses across various industries, highlighting those who continually set new standards of excellence. Chosen from a pool of exceptional nominees, Belize River Lodge emerged as the undeniable winner in the fishing lodge accommodation category. This achievement is a testament to the lodge's dedication to creating an unparalleled destination for fishing enthusiasts and travellers seeking an unforgettable escape.
Nestled in the heart of Belize's captivating landscape, Belize River Lodge offers an extraordinary blend of adventure, relaxation, and luxury. With a firm belief in sustainable tourism practices, the lodge seamlessly integrates with its surroundings, allowing guests to immerse themselves in the rich natural beauty of the region. The lodge's commitment to preserving the environment while providing top-tier services aligns perfectly with the Lux-Life Awards' values.
"We are truly honoured to receive the Lux-Life Best Fishing Lodge Accommodation Award for 2023," said Marguerite Miles, matriarch extraordinaire of Belize River Lodge. "This recognition is a result of the hard work and dedication of our entire team. We strive to create an exceptional experience for every guest who walks through our doors, combining world-class fishing opportunities with comfortable and luxurious accommodations."
Guests of Belize River Lodge can expect a range of unparalleled amenities, including expertly guided fishing excursions, delectable dining experiences, and a range of outdoor activities that allow them to explore the natural wonders of Belize. The lodge's commitment to guest satisfaction and its passion for preserving the delicate ecosystem make it a prime choice for travellers seeking a well-rounded and environmentally conscious adventure.
As the winner of the LuxLife Best Fishing Lodge Accommodation Award for 2023, Belize River Lodge solidifies its position as a leader in the hospitality and sport fishing industries. This prestigious accolade reflects the lodge's dedication to excellence, commitment to sustainability, and its ongoing efforts to provide guests with an extraordinary and unforgettable experience.
For media inquiries, please contact:
Belize River Lodge
Email: fishing@belizeriverlodge.com
Phone toll free: +1 (888) 275-4843
Website: www.belizeriverlodge.com
Belize River Lodge is a premier fishing lodge located in the heart of Belize's captivating landscape. With a focus on sustainable tourism, the lodge offers world-class fishing experiences, luxurious accommodations, and a commitment to preserving the environment. Guests can immerse themselves in the natural beauty of Belize while enjoying exceptional services and activities tailored to both adventure seekers and relaxation enthusiasts.