"Fishing in a place is a meditation on the rhythm of a tide, a season, the arc of a year, and the seasons of life." ~ Carl Safina
We had some visitors this year from farther than regular, Norway. Andre and Elisabeth arrived at the end of February and fished into early March spending part of their time at BRL and part at LCOL. Their focus was tarpon and while the weather was windy, they were able to land tarpon on the flats and in the rivers; overall a successful first Tarpon trip.
After missing the last few years of visiting Belize River Lodge, it was really a pleasure to visit with Winston and Beryl again and to spend the evenings chatting and catching up. Winston and Beryl said they had "six perfect weather days" fishing the Flats, Mangroves and Rivers in early March. Up river they landed a 70 pound Tarpon and four more Tarpon in the 10-30 pound range. They also caught and released Snook, Jacks and a Bay Snook. While fishing the flats and Mangroves, both landed on day two 3 Tarpon each and on the third day Beryl landed 3 Tarpon, 1 Snook, 1 Jack and Winston landed 1 Snook, 1 Bay Snook and 1 Jack, all released for future guests to fish. On their 4th day they had fun catching lots of baby Snappers. Having had a full week on their last day they did some Bottom fishing. They were both very happy and felt their week here was a good and fun week for fishing.
Sandy and Kathy fished together just one day and more emphasis on a "water tour"; where they saw two Jabirus on the nest with two chicks just upriver from the lodge. Being an avid birder, Kathy enjoyed days birding while her husband, Sandy, fished. Kathy and her birding guide, Jorge, toured sites known for birding, which included ancient Maya sites, the Howler Monkey Sanctuary and several other unique to Belize birding locations. Kathy thought that the tours were exceptional and her guide Jorge was very knowledgeable about the Birds of Belize and she shared her guide's enthusiasm on birds which made the tours even more spectacular. Kathy felt the tours were beyond her expectations. She was able to add many birds to her life list. While Kathy was out birding, Sandy fished, hooking some smaller tarpon and landing a 70 pound Tarpon which was very exciting. The following day he hooked a 100 pound Tarpon but the averages of Tarpon won and the tarpon shook loose, but enjoyable while on the fly. Sandy also caught a big Jack about 15 to 20 pounds and a 25 pound Tripletail, both putting up great fights and fun to land and relase.
John and Tom had a Combo fishing trip where they fished from BRL'S Long Caye Outpost for a few days where they hooked 4 Tarpon, landed 1, caught one 10 pound Jack and 1 Snook. The following day they got in to Bones, Jacks and Snook. On their return to the main Lodge, they fished up the river and landed Tarpon and Bay Snook ~ a very good Finale to their combo trip.
In mid-March Russell and Kathrine arrived at Belize River Lodge. They were happy to be here. Russell started out his first day by landing six Bonefish in eight casts, saw lots of Permit in a big school at the reef but got no takes. Several Tarpon also looked at his flies but would not take, even after changing several flies. He also had a big Snook run under the boat; all of this on his very first day where he had a virtual Super Grand Slam. The winds kicked up and the next day was a slow one landing just two Bones and no takes from Permit and Tarpon he cast to. The guide decided to shelter from the winds and fish the river, so they went upriver where Russell jumped four Tarpon and landed a 60 pounder and a Catfish. They saw Jabirus on the nest, a Monkey with a baby, Crocodiles, flying wild Turkeys, two Manatees right up next to the boat. Other days in the rivers, he landed two 10 pound Snook and kept one for dinner that night. They were most complimentary about the lodge, the staff, the food and the guides. Russell said: "The river fishing is a great asset, especially with bad and rough weather on the sea."
Mike is a long time guest at Belize River Lodge who normally fishes by himself and loves large Tarpon. It is always delightful when he is here visiting and fishing. This year, Mike was joined by good friends Steve and Tamela. The weather was a bit off (windy and rough) for Mike; however even though he saw lots of fish it was a bit slow. The same was reported by Steve and Tamela, they saw Tarpon but couldn't get the Tarpon to bite. Even though the weather was not cooperating Mike hooked and lost a few big Tarpon and landed some small Tarpon and 2 Jacks. Steve and Tamela were able to jump a Tarpon every day except for one of their fishing days. On the 4th day of the trip, Mike landed a 125 pound Tarpon after a 1 hr 37 min struggle and fight, the 125 lber was landed and successfully released. On that same day Steve caught a Snook and Tamela caught a Bonefish, that evening was a very happy one on the porch. Earlier that same evening Karen walked out to meet the boat and she asked John, the guide, how was the fishing? He said look inside the boat and there she saw a long measuring tape and a pair of gloves (symbols of happiness to a fisherman) he pointed to them and said, that means we had a good day and then he smiled.
Note: Tarpon are measured from the inside fork of the tail to the lip for length and then around the belly for the girth. You can then visit the Bonefish and Tarpon Trust website, plug in length and girth to get the weight of your tarpon with the BTT Tarpon Calculator. Fun! Fun!
BTT also has a Bonefish calculator where you only need the length (inside fork of the tail to the lip) to calculate weight –
We had other guests during the March time frame, and while their stories may not be listed in words, some are notated by pictures. We hope you enjoy and we enjoyed meeting everyone and visiting on the porch. Until we meet again. . .
Warm regards,
Mike and Marguerite
For the entire Fish Tales ~ March 2023 email, please click here.
"Fishing is not a benign activity; it is hunting in the water." ~ Sharon Gannon
Pictures are not in any specific order, but show fishing, scenery, Long Caye Outpost and Belize River Lodge pictures over the March 2023 timeframe.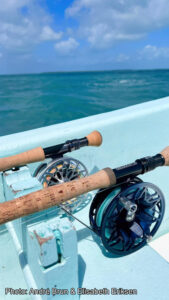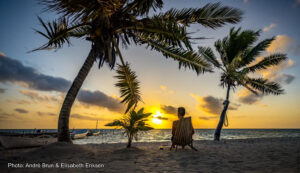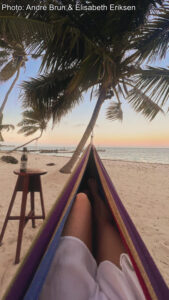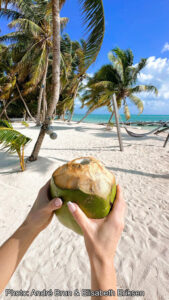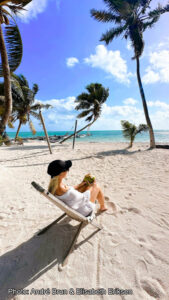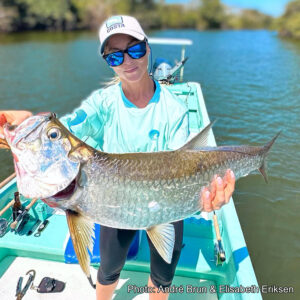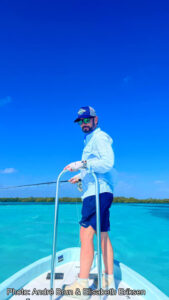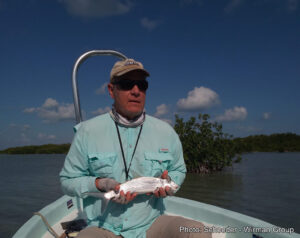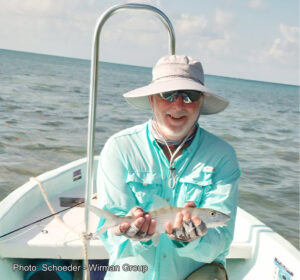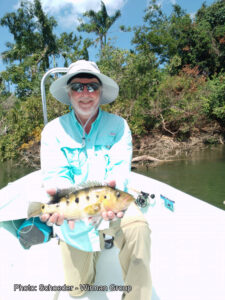 "I am an old-fashioned angler seeking to fish in a peaceful and relaxing way in traditional surroundings. Other anglers are too noisy, too busy, and catch fish that might break my landing net." Fennel Hudson