The Flats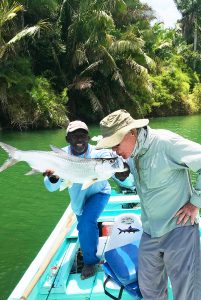 FISHING REPORT – MAY 26, 2019
They say climate is what you expect, weather good or bad, is what you get! Well we have been having the expected beautiful climate as well as beautiful weather here in Belize over the last couple of months. Yes beautiful weather……… for sailing. Lots of clear, sunny and windy days, perfect for sailing ……… but not for fly fishing on the open flats and bays. Fortunately here at BRL we have three rivers we regularly fish with some wind protection.
Tarpon, Snook, Jacks and Snappers were often caught in the rivers while dodging the winds on the open sea. Bernard M. of France landed four Tarpon each weighing 120, 108, 85, 60 pounds. Mike N. landed six Tarpon each weighing 120, 105, 100, 85 and 85 pounds. Today Alex B. landed a 125 pound Tarpon. Some other anglers landed many small and medium and a few more big Tarpon. Snook fishing in the rivers and wind protected mangrove areas was also very good for many anglers. Just a few Snook were kept for the table but most were released immediately after catching.
Permit and Bonefish were the most difficult to catch because of the winds but many were seen and cast to with fewer than the normal hook-ups and landings. Quite a few Tripletails were also landed as they are still here along with the migratory big Tarpon. A few of the acrobatic Ladyfish as well as a good assortment of Snappers, Jacks, Cudas and Grouper were also landed.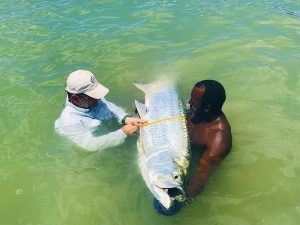 Update: End of May 2019
Dr. Michael Steinberg joined us for a few days of fishing and the weather was Tarpon friendly. He landed a few big ladies and made sure they were measured for accurate estimation on the Bonefish & Tarpon Trust Tarpon Calculator. Mike thought he was going to find time to fish for snook but he spent the entire two days focused on big Tarpon. It is amazing how often this happens.
Note on weather: Historically May is one of the least windy and rainy months of the year, 2019 was not historical in weather with windy conditions for most of the month.
Hope to see you soon and we can be reached toll free at 1-888-275-4843 or by email.
Mike Heusner