"Anyone who knows fish knows that pound for pound any salt-water fish is far stronger, far more disinclined to be hauled in on a line than a comparable fresh-water fish."                 
~ Louis D. Rubin Jr.
August 11, 2019
It is still officially the rainy season here in Central Belize, but the Belize River in front of the lodge is still green and clear as we have had very little rain. A mild tropical wave passed thru a few days ago but with just some light rain.
The Resident Big Tarpon are here and many have been seen, cast to, jumped and several landed in and around Belize River. Good action was also had with Big Tarpon at several other locations. Erick was the top angler this period landing a 120 pound Tarpon on Aug 2, even with a broken rod and losing two others about the same size. He also landed several small Tarpon in the 10 to 25 pound size, jumped and lost some others. Dick, another angler in the group, landed a 40 and an 80 pound Tarpon.
Drake had fun catching two Triple Tails and he and his son Hunter had great fun with Small Tarpon, Bones, Snook, Cudas, Snappers and Jacks. Triple Tail fillets and soup were enjoyed for dinner. In addition to very exciting fishing on his 14th birthday Hunter also saw Dolphins, Manatees, Sharks, Rays and Crocodiles. Needless to say fishing at BRL on Hunter's birthday was a memorable experience which he hopes to repeat.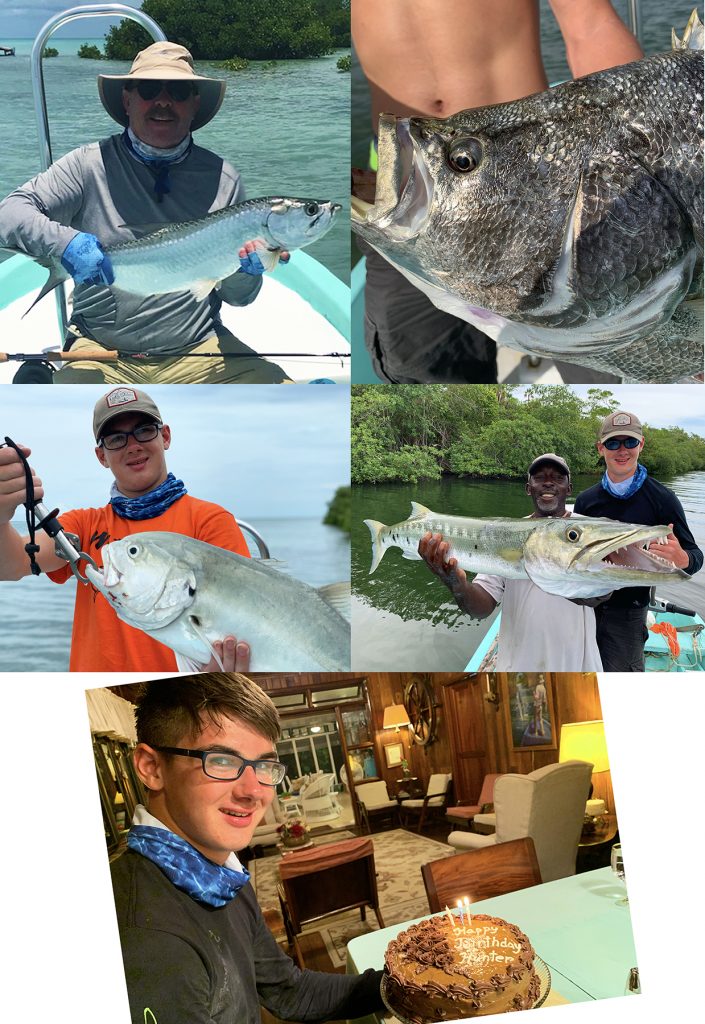 Along with Tarpon and Triple Tail, a few nice Snook and a couple very big Barracudas were also landed. Some guests also spent a few nights at BRL's Long Caye Outpost and had a "fabulous" time fishing the area for Big Tarpon, Bones, Permit and Snook.  So my little poem for the times:
Belize Olde River still so green
Middle of August the rains very late
Clear calm and sunny all day
Blue sky with white and gray clouds
A thunder head rumbles by
Our two seasons now blended as one
Half rainy season half dry season
Climate change right up front.
With beautiful summer weather and Belize even easier to get to (Air Canada, Southwest, American, United and Delta all fly direct to Belize), don't put off your visit. We look forward to some more productive fishing here at BRL in the next few months and Marguerite and I hope to see you soon; we can be reached toll free at 1-888-275-4843 or by email.
Warm regards,
Mike Heusner
---
Great Flats fishing and great pricing!
Each year, Belize River Lodge offers a great opportunity for all anglers who enjoy or are addicted to Saltwater Flats Fishing – discounted package rates at Belize's first fly fishing Lodge and also our Long Caye Outpost. The fishing is the same – Tarpon, Bonefish, Snook, Permit and all the other variety which is found year round at Belize River Lodge.
There is still time to take advantage of our "2 for 1" special at either Belize River Lodge or our Long Caye Outpost. The special is "purchase any single package and the second person is free" on any main Lodge or Long Caye Outpost Lodge packages.
To see the dates of this year's "2 for 1" Special and other discounted packages, click here.
Or please email and we will be happy to send you full details.
---
"The great charm of fly-fishing is that we are always learning."
~ Theodore Gordon