Hellos from the BRL Office Ladies – February 27, 2023
It is always a thought process to find something to say hello about; new ideas, so for this hello, we will chat about the Guides. During your visit, you spend much of your time at Belize River Lodge with your guide. He is trained in both fly and spin fishing and he not only shows you where the fish are, but is also a source of information about Belize and all that our beautiful country offers.
When Mike and I first managed the Lodge in the early 80s, then purchased it in 1986, our guides then were wonderful men, but guiding was a big secret to keep. Younger guides had to fend for themselves to learn the art of flats fishing or if they were one of the lucky ones, have an older family member willing to show them the ropes. One of the things that Mike and I did was to try and de-mystify the information so that these older guides, Mr Jimmy, Mr Richard, Mr Philip and counting down to present times, no longer hold the art of flats fishing as a national secret and now help the younger generation to learn both fly and spin fishing and all it entails.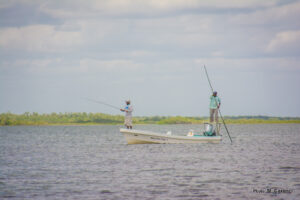 Dirk, our son-in-law and one of our guides, has been teaching and training younger generations of guides in Belize for years. Dirk still helps with preliminary training while he is in Belize. While all our present guides are helpful to younger guides in training, John has "taken up the mantle" and trains when he is not guiding. John started guiding when very few of the older guides were willing to share a "lil" (Creole for little) bit of flats guiding. He loved the art, so John spent as much time as he could learning from who was willing to share fishing and learning on his own. John helps with the preliminary guide training AND he also shows our trainee guides the ropes on the flats, rivers and channels and teaches them how to spot fish.
Guide training is a long term process and important to note that our guides go through a minimum of 3 years of training before being placed with guest; and with the Covid closure of Belize and the subsequent year of running at 50%, these new guides have been training for now about 5 years. They have stayed diligent in their learning and are excited about finally getting to take out guest full time.
Guide training covers all aspects of both fly and spin fishing: from professionalism as a guide; safety of guest and fish; communication with guest from information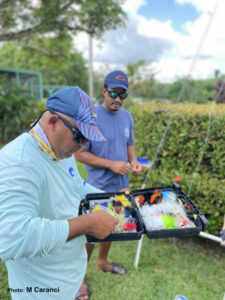 on fishing and to the distance for casting and general information on Belize and so much more; fishing knots, flies, lures, rods, reels lines, and casting; poling the boat to proper positioning of the boat (different depending on where you are fishing and weather and tides to be considered); best practices for fish handling, fish photos and release; engine/boat care along with the ins and outs of a full day of guiding from boat prep in the morning to washing down guest rods and boat/engine with fresh water at the end of the day. These guys also need to learn how to "speak" fishing to help anglers with casting if help is needed while on the flats and all of this while keeping a happy, positive demeanor and outlook. This takes time patience and diligence!
So, we would like to take this time to say "kudos" to our guides, past, present and future. May you keep learning and sharing and helping to make Belize River Lodge and Belize a premier angling Flats destination.
Warm regards,
Marguerite
and the BRL Office Ladies
The following are the links to all the parts of February 27th Fish Tales
{1} Hellos from the BRL Office Ladies
{3} BRL Tour Highlight #4 – ATM Cave
{5} Long Caye Outpost Beauty Boost
{6} BRL and LCOL Fish and/or Tour 2023 Package Options
– BRL Fishing Packages
– LCOL Fishing Package
– BRL Eco-Adventure Tour and Birding Packages
– Combo Fish and Tour Packages with Tentative Sample packages
– One and Two Couple Fish and Eco-Adventure Tour Packages