Hello from the BRL Office Ladies ~ May 2023
July 26, 2023

Fish Tales – May 31, 2023
July 26, 2023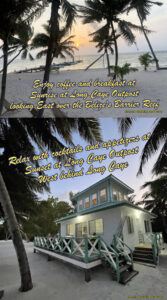 Long Caye Outpost (LCOL) faces and the Guest House porch and beach is a great place to enjoy a cup of coffee and watch the sunrise over Belize's Barrier Reef before heading out for a day's fishing.
LCOL has three bedrooms housing up to 6 anglers. Whether your group is 2, 4 or 6 people, it is just you and your Long Caye crew at the Outpost. Crew is guide (one for every two anglers), cook, housekeeper, maintenance person and island caretaker.
Long Caye Outpost is a great get-away-from-it-all fishing focused vacation or a family vacation. For a family trips, there is snorkeling, birding, general fishing or "drop fishing" at the reef and kayaks are available free of cost on request, just let us know.
For more information on Long Caye Outpost
For the entire May 2023 Fish Tales email, please click here.