Fish Tales ~ December 2018
January 20, 2019

Happy New Year 2019
January 20, 2019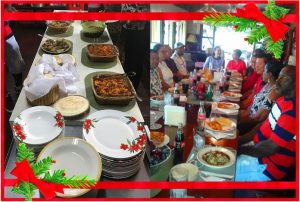 Before this Christmas evening is over, from all of us at Belize River Lodge, we wish you and your family a very Happy Christmas.
Best regards,
Mike, Marguerite
& the BRL Family
PS
The pictures above are from our Christmas luncheon where it was voted by everyone to have a more traditional Mestizo Christmas with Renello and Pibil. Delicious traditional foods with great company and lots of good stories and jokes were shared.
><(*> Catch and Release – Tarpon, Bonefish & Permit <*)><
Fishing, Birding & Eco-Tours . . . Visit BRL or LCOL & Enjoy our hospitality!
Belize River Lodge
PO Box 459
Belize City, Belize
Central America
><(*>
Phone Direct: (501) 225-2002
Fax Direct: (501) 225-2298
Toll Free: (888) 275-4843
BRL Email Us
><((*> ~ o ~ <*))><
Facebook BRL
Facebook Long Caye Outpost
Linked-In