A truly funny fishing tale – Gentlemen anglers Seaborn (4th trip) and Jim (1st trip) visited BRL last week looking to land small tarpon mainly. Lo and behold, the migratory tarpon moved in and with a combined boat effort – Jim's rod, John's reel and Seaborn's fly and casting, they hooked into a big fish. Seaborn and Jim took turns fighting the tarpon, but needed a little help from guide John in the middle, with Jim finally bringing the tarpon to the skiff. John measured the tarpon at 66"L x 34" girth for a 115 lb Tarpon and photographed by Seaborn. Yippee and congrats.
On the other side, thankfully, they were able to land this tarpon, as she was trailing a 4 ft piece of heavy fishing line with a "bait" hook stuck in her lip. While the fly that the guys used to bring the tarpon to the skiff was easily removed, John took a little time to remove the "bait" hook and excess line and this beautiful 115 lb Tarpon was released and she swam away under good speed, healthy and ready for another day.
We have pictures of the Tarpon, angler Jim and guide John, angler and photographer Seaborn sadly no photos, alas someone had to take the pictures.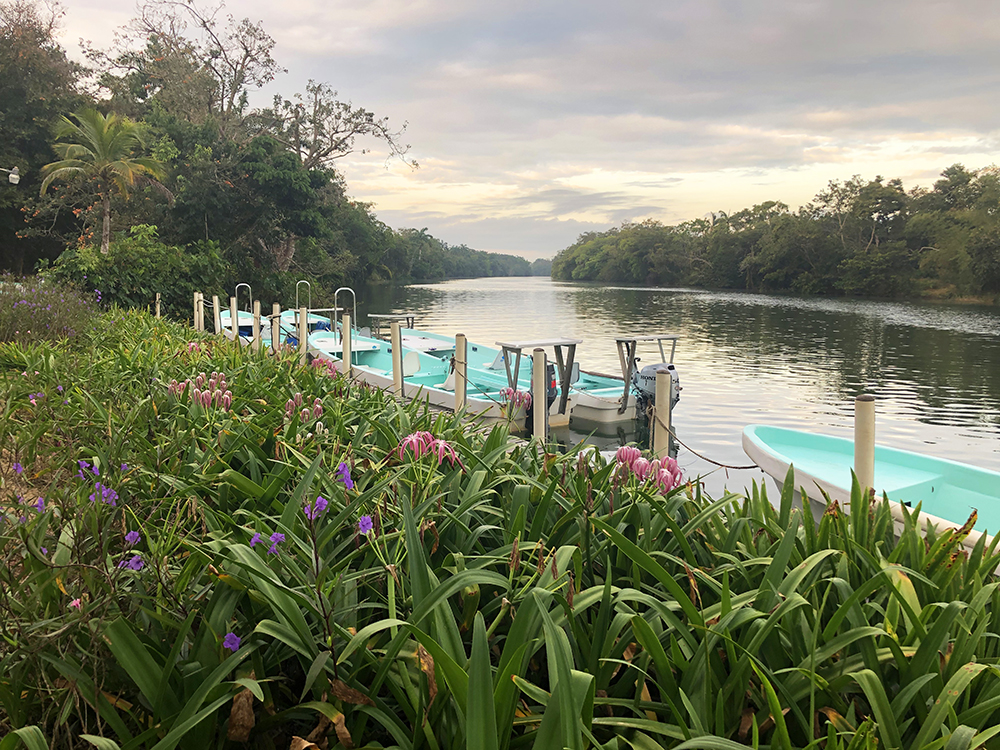 Guide John in the Mangrove Cathedrals, Guest Jim enjoying playing his big tarpon, and photos of getting the big tarpon to the skiff.

Guide John grabbing the leader



John realizing that not only does this migratory Tarpon have the fly, it also has been carrying around a "bait" hook and heavy duty fishing line.

The fly is easily removed and John takes great care in removing the "bait" hook and excess line this poor girl has been carrying around.

John makes a few good passes and swishes to get this Tarpon on her way. She swims off in good health.
Snook

Small Tarpon

A little more than fishing, bird watching while at Sea – Roseate Spoonbills and Egrets

Close up of Roseate Spoonbills
#belizeriverlodge #longcayeoutpost #bonefish #snook #permit #tarpon #belize #centralbelize #historiclodges #historicfishinglodge #flyfishtheworld #spinfishing #tightlines #findyourwild #repyourwater #belizeflyfishing #belizeflyfishingguides #belizefishinglodges #saltwaterflyfishing #saltwaterfish #flyfishing #anglerapproved #SeeWhatsOutThere